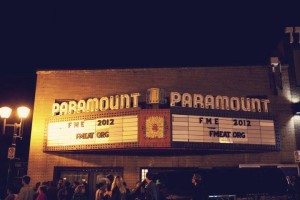 Il y a des choses comme ça dans la vie. Mélangeantes, mais pas pour ceux et celles qui le savent.
La scène Paramount, c'est l'ancien cinéma.
Le Paramount lui, c'est le cinéma.
Ça serait dommage d'aller sur la Gamble pour aller voir le dernier film de la trilogie du Hobbit. Quoique encore plus navrant d'espérer voir le triplé de aRTIST oF tHE yEAR, Beat Market et Technical Kidman dans une salle de projection sur la Perrault…
Nah, en fait, c'est pas la fin du monde. C'est vraiment pas très loin un de l'autre.
Je te le dis quand même parce que, oui, ces endroits m'ont déjà confusée…